"I'm not a techie person; I don't understand that stuff!"
Hey, it is okay. It is common to hear this often from people who have never dived into the tech underworld before, or have never taken the initiative to figure out why certain tech things work the way they do. And if you ever do, you may end up regretting the new venture!
So, for our church's new building, there may be several areas that look confusing at first glance, or even questions as to why we need these specific rooms. As part of the contribution to these blog posts, my hope is to help you understand better specific rooms as well as the vision we have for technology at Moon Valley.
So buckle up.... here we go!
ISO ROOM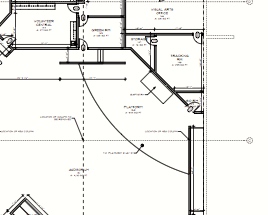 DID YOU KNOW?... electronic devices give off heat. For larger equipment, they have large fans installed that engage before a device overheats. So, the next time you're lost in the desert on a cold evening, just plug that trusty iPad into the nearest cactus and feel that warm radiance… (just kidding, don't do that. It won't work).
Heat from these devices is measured in what's called "BTU" (British Thermal Unit), and often times can put out a lot of heat. Fans will run in these electronic units to help cool the device so it doesn't overheat. Well, when you have a 4 to 6-foot rack of this type of equipment running together with cooling fans, it can get noisy, and sometimes that noise can be distracting if not isolated and closed off in a sound-deadening room. Thus…. the ISO room!
So, in context, the ISO room in our new building will be a treated room that will allow very little to no sound bleed into the auditorium. In this room will be placed the main "stage rack". The stage rack is basically the "Grand Central Station" that all microphones and sound board input channels plug into and any other techie jargon. From this rack, one Cat5 cable will run the length of the auditorium to connect up to the main sound board. This is all done via digital technology/computer cards that have come VERY far since the days of analog equipment and 100-foot channel snakes that someone is always bound to trip over in the aisle. This ISO room will also house a fan and exhaust system that will keep the room cool and unnecessary heat out.
And don't worry… the ISO room WILL NOT be used as a secondary "time out" for the kids' ministry.
So, there you have it. An ISO room is great way to keep any unwanted electronic noise out of your auditorium and also have a great place to store rack equipment and other smaller stage items, keeping clear your backstage area.
Wes Crenshaw, Music and Programming Director, Moon Valley Bible Church, Phoenix AZ