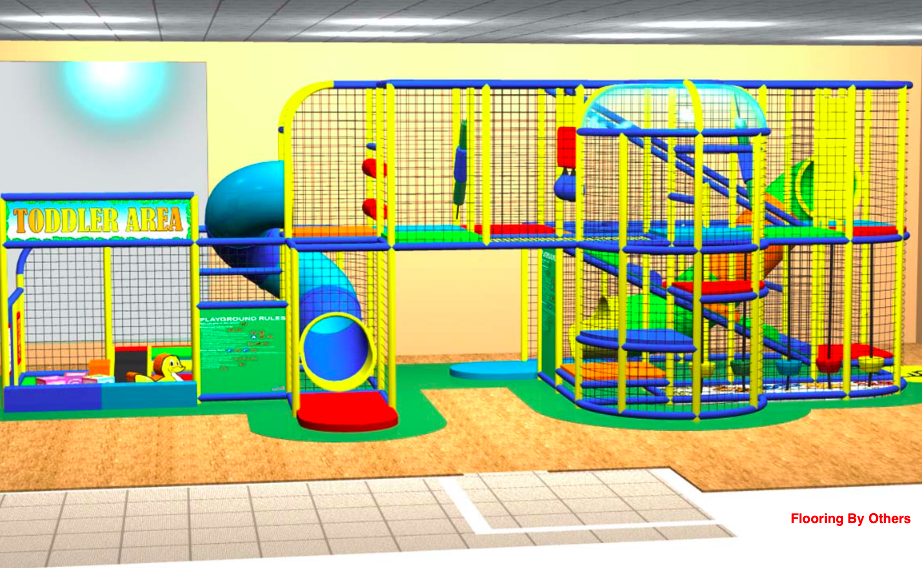 I am so excited to be able to talk about one of my favorite things about the new building: the playground and play space. Our hope is that the playground and play space will be a safe place for children to interact and play. We are investigating different options for use of the playground, including allowing parents and guardians to pay to drop off their kids with an experienced staff while they hang out or work in the café located to the right of the playground in the new building. Nothing is finalized and is subject to change but I wanted to share with you a few things we are hoping to include in the new space.
First, as many of you have seen in the drawings, is the main play structure. The main playground was designed by a company that factored in the physical, cognitive, emotional and cultural development of children. It meets safety standards, it has netting around the entire structure and soft landing areas, and the entire floor is rubberized. It was designed with the age range of 6 months-12 years old in mind. There are many exciting activities on this play structure that involves two levels, including a moonwalk climb, two slides, a dodge and duck and many more. And I really like that you can see into the entire structure; there are no blind spots.
Additionally, I have been working with an occupational therapist, Miki Lyding, to include some sensory items. We hope to include a small rock wall, an activity panel wall, hug chairs, a tube swing, and gymnastic blocks.
Our desire is for this space to be a safe and fun place for all kids. Please feel free to contact me with any questions or thoughts.
Sarah Kerrey, Lead Children's Director, Moon Valley Bible Church, Phoenix AZ